First Redeemer worship happens each Sunday morning at 9:30AM & 11AM in First Redeemer's main sanctuary. We are located at 2100 Peachtree Parkway in Cumming, GA. When you arrive on Sunday, the Welcome Center is located just inside the main sanctuary building.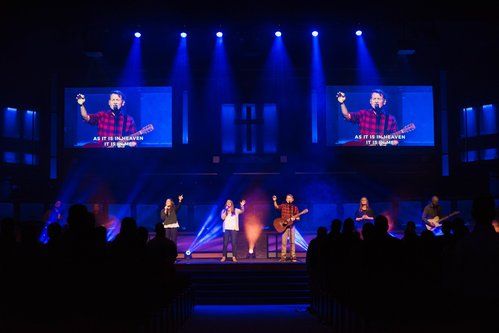 9:30 AM Contemporary Service
In this service our modern worship band leads the congregation in today's top worship songs by artists such as Hillsong, Passion, Bethel Music, etc.
Led by a world-class choir and orchestra, this service features a blend of today's top worship songs and the classic hymns.
What's available for my Children?
We love kids…and they love us too! Tremendous programs for children of all ages are available on our
children's ministry page.
Once they experience First Redeemer's ministries for kids, they'll beg to come back!
Preschool Wing of the main sanctuary building. Childcare is available for pre-schoolers during the 9:30AM & 11AM services.
Children are currently worshipping both on-campus and online. Check in at the Children's Wing off the Sanctuary or the Children's Atrium. Small group classes and Kids Worship are available.